PHPNW08: Post PHP conference blast
On Saturday 22nd November I was in Manchester at Manchester Central (formerly GMex) for the first UK PHP conference outside of London: PHPNW08. The conference started as an idea back in February this year and went from concept to reality over the summer months as the PHP North West (PHPNW) user group was formed and started it's first meeting in July.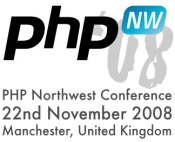 I managed to rope everyone in, Priscilla, Emma, Mat & Phil along with Bridget on the day and David keeping the dogs happy while we were in conference mode, thanks to all for playing their parts. All in all as a company we're very proud of what we've managed to pull off, all the hard work and planning has paid off, almost universally the feedback has been excellent with many people saying, to us directly, it was the best organised community conference they'd been to for years.
Sitting in the first session, K.I.S.S from Derick Rethans, I was aware of a very surreal feeling – the conference was actually happening, after months of planning, a little heartache and juggling some of the risky elements, it was actually happening right here, right now!
One of the main drivers behind PHPNW08 was to encourage junior developers to take an active path to their continuing professional development, with speakers sessions covering topics like MySQL EXPLAIN Explained and Regular Expression Basics being warmly received by many I think we achieved that objective!
My personal favourite session was Zoe Slattery's 'Index and Search, options for PHP programmers' which was a really interesting comparison of the Lucene search implementations in PHP and Java – not what the title suggested but a well delivered, complex subject delivered in an easy confident manner.
It was also good to have some fun at the socials on the Friday and Saturday night, even if I didn't quite manage to find any time to play on Mario Kart – with the open bar and food on the Saturday event it seemed to be a great way to round off the event.
While we still have to deal with some of the wrap up elements of the conference, videos, slides, handing out the last remaining prizes – the general aftermath of a very satisfying weekend, we're already looking forward to early planning for next years' event, PHPNW09 everyone?!